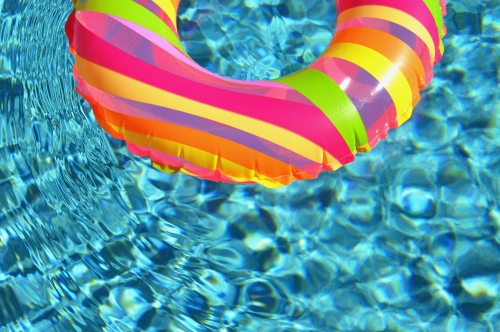 As the weather warms up, there is one thing on many homeowners' minds: having or attending a pool party. Food, drink and party games are always major aspects of party planning, and pool parties are no exception.
As a host, you want to provide a great spread that won't get in the way of your guests' fun in the sun. As a guest, you hope to bring something everyone will enjoy. So, how do you know where to start?
Here are some fun finger foods for pool parties:
Simple shrimp & veggie skewers
Nothing says "summer" like grilled shrimp. Skewering them with your choice of veggies makes them an even better poolside snack right off the grill. Remove the tails before serving for utensil-free pool party enjoyment.
Fresh mango salsa with chips
Mango salsa is a vibrant side dish with the perfect blend of sweet and spicy. All you need to make it is fresh mangos, red bell peppers, cilantro, lime, jalapeños and red onion. Eat it with chips or serve as a salad.
Fruity & delicious ice pops
Frozen treats are essential to a summer party, and making your own fruit popsicles is simpler than you might expect. Use a silicone popsicle mold and fill with your choice of puréed frozen fruit, like strawberries or raspberries.
You can add additional sweeteners, fresh herbs or yogurt to enhance the flavor and texture of your homemade dessert. Otherwise, keep the pops as is for a burst of sweetness that hydrates you at the same time.
Kid-friendly recipes - Other than ice cream
Sometimes it's best to go with the classics, especially when you have picky eaters at your party. A simple macaroni salad works wonders for guests of all ages, especially when served beside a delicious turkey hot dog. Slow cooker pulled chicken sliders are another popular recipe idea with the added bonus of being easy to make in large quantities.
If you're planning a pool party, make sure your snacks are up to par. Keep these recipe ideas in mind for the very best party snacks to help you beat the heat.